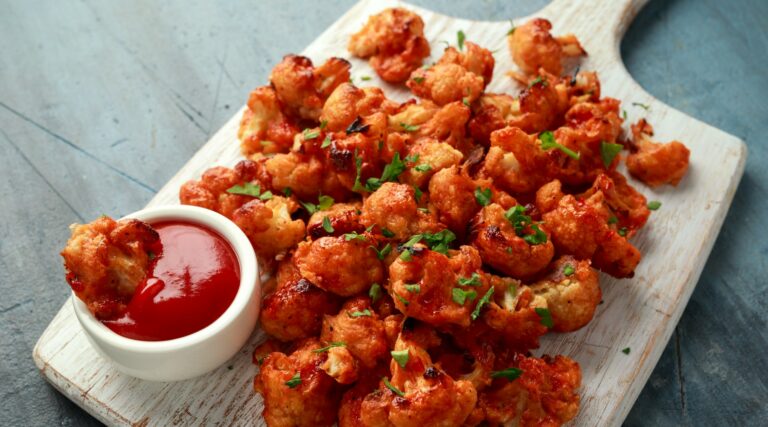 Air fryer buffalo cauliflower wings
Savour the delectable buffalo-style cauliflower either as a satisfying vegetarian main course or as a spicy side dish to complement your favourite meals. Bursting with flavour, utilize the air fryer to cook them, ensuring a crispy and delightful outcome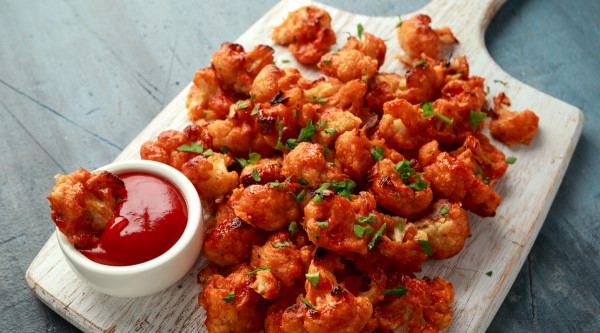 Air fryer buffalo cauliflower wings
Savour the delectable buffalo-style cauliflower either as a satisfying vegetarian main course or as a spicy side dish to complement your favourite meals. Bursting with flavour, utilize the air fryer to cook them, ensuring a crispy and delightful outcome
Nutrition: Per serving (8)
In a bowl, thoroughly mix together paprika, cumin, garlic granules, flour, buttermilk and a generous pinch of salt and freshly ground black pepper to create a smooth batter. Add the cauliflower florets to the batter and toss them gently until they are evenly coated.
Arrange the cauliflower florets in a single layer within the air fryer basket, ensuring to shake off any excess batter as you place them. Depending on the size of the basket, you might need to cook them in batches. Set the air fryer to 200°C and cook the cauliflower for 18-20 minutes, flipping them halfway through the cooking time. Keep an eye on them until they turn brown and slightly crisp around the edges.
While the cauliflower is cooking, in a large bowl, combine the hot sauce, olive oil and honey or maple syrup (if using). Once the cauliflower is cooked, add it to the bowl with the sauce and set it aside. If needed, repeat the cooking process for any remaining batches. Gently mix the cooked cauliflower with the hot sauce, ensuring it is well coated. Finally, return all of the cauliflower to the air fryer basket and cook for an additional 6-9 minutes until it is hot and thoroughly cooked.