Introducing the Nebula Grande Slow Juicer
The Nebula Grande juicer is a revolution in juicing. With its sleek design, high build quality and ability to yield the maximum amount of juice. It is no wonder that the Nebula Grande is one of the most advanced juicers available.
We have designed and created a product which is simple to use, easy to clean and will produce incredible amounts of juice. Boasting a Pure Juice Strainer and Fibre Boost Strainer, creating the perfect juice for your health and lifestyle has never been easier.
Using our specifically designed recipes targeted to fit in with your health needs, start creating your own amazing juices today.
Easy to assemble & BPA Free with 5 Year Guarantee on Motor, 2 Years on Parts
The body of a Nebula juicer is made out of high grade ABS material for the timeless look. It has a sleek design and all our parts are made out of BPA free super tough poly-carbonates which are up to 10x stronger than tradition plastics.
We are so sure of the quality of or Juicer we give a 5 Year Guarantee on the Motor and 2 Years on all parts. 
The juice cap allows the produce to mix perfectly in the bowl whilst juicing to give the best consistency, and the most fantastic tasting juice possible. This means no more mixing your juice. Just pour, and enjoy.
Our Auger has been specifically designed to cope with anything you can put through it. Designed with power and stability in mind, it simplicity and shape ensure it will yield more juice than ever before, and remain strong enough for any produce which passes through it.
With the Nebula Grande there is only our auger moving at 45RPM. So its quiet as a whisper when in operation.
Cleaning Just Takes Moments
All parts are dishwasher safe at low temperatures, or easily cleaned in seconds using the cleaning tool provided. Also, using the easy clean method you can just rinse your juicer to pre-clean in-between different flavoured juices.
We have a sorbet strainer to create perfectly chilled desserts using frozen fruits.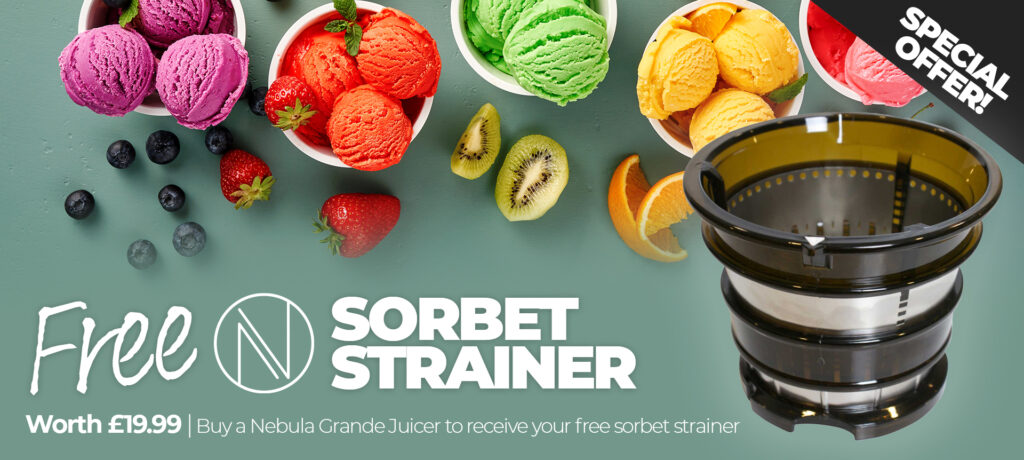 Juicer Body
XL Auger
Hopper
Drum
Spinning Brush
Pure Juice Strainer
Fibre Boost Strainer
Juice Container
Pulp Container
Pusher
Cleaning Brush
Nebula Recipe Card
Instruction Manual